Mako Total Hip
If you're one of the millions of Americans suffering from pain caused by arthritis or an injury to the hip, and you haven't experienced adequate relief with conservative treatment options, Mako Robotic-Arm Assisted Surgery might be right for you.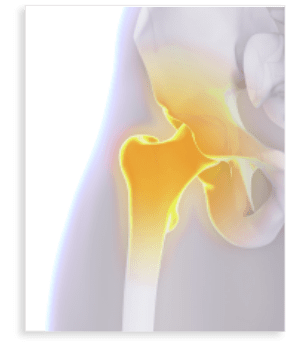 ---
The Mako difference
In clinical studies, Mako resulted in:
More accurate placement and alignment of hip implants based on the surgical plan.1
Less likelihood of hip dislocation.2,3
Replication of the feeling of a natural hip.5
Preservation of healthy bone.6,7
---
---
How
Mako

Technology works
---
Is
Mako

an option for me?
Mako Total Hip is for people with:
Severe hip pain or stiffness resulting from: noninflammatory degenerative joint disease (including osteoarthritis, traumatic arthritis, or avascular necrosis), rheumatoid arthritis or post-traumatic arthritis
Those who haven't experienced adequate relief with conservative treatment options, like bracing, medication or joint fluid supplements
References:
Domb BG, El Bitar YF, Sadik BS, Stake CE, Botser IB. Comparison of Robotic-assisted and Conventional Acetabular Cup Placement in THA: A Matched-Pair Controlled Study., Clin Orthop Relat Res. 2014 Jan;472(1):329-36
Illgen R. Robotic Arm Assisted THA Improved Accuracy, Reproducibility, and Outcomes Compared to Conventional Technique. 43rd Annual Course: Advances in Arthroplasty, October 22-25, 2013, Boston, MA.
Bukowski, B.; Abiola, R; Illgen R. Outcomes after primary total hip arthroplasty: Manual compared with robotic assisted techniques. ; 44th Annual Advances in Arthroplasty; Cambridge, MA. October 7-10 2014.
Bukowski BR, Anderson P, Khlopas A, Chughtai M, Mont MA, Illgen RL Improved Functional Outcomes with Robotic Compared with Manual Total Hip Arthroplasty. Surg Technol Int. 2016 Oct 26;XXIX:303-308.
Itay Perets, John P. Walsh, Mary R. Close, Brian Mu, Leslie C. Yuen and Benjamin G. Domb. Robotic-Assisted Total Hip Arthroplasty – Clinical Outcomes and Complication Rate. SPEAKER: Itay Perets
Suarez-Ahedo, C; Gui, C; Martin, T; Chandrasekaran, S; Domb, B. Robotic-arm assisted total hip arthoplasty results in smaller acetabular cup size in relation to the femoral head size: A Matched-Pair Controlled Study. Hip Int. 2017; 27 (2): 147-152.
Nawabi DH; Conditt MA; Ranawat AS; Dunbar NJ; Jones, J; Banks S, Padgett DE. Haptically guided robotic technology in total hip arthroplasty – A cadaveric investigation. Journal of Engineering in Medicine. December 2012;227(3):302-309.