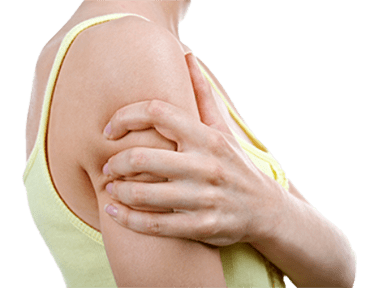 Take control of your
shoulder pain.
Why does my shoulder hurt?
If you feel pain in your shoulder, you've already discovered that your shoulder joint is involved in even the simplest of tasks, like eating, dressing, or putting a phone to your ear. The bite of shoulder pain can be much more than annoying; it can get in the way of day-to-day living. It also may be telling you something's wrong.
Learn more
What can I do?
Talk to your doctor. If you've been diagnosed with arthritis, and have already tried medication and other treatments to help reduce your pain, but it still hurts, it may be time to ask your doctor about surgery to replace the damaged parts of the joint. What are your options about surgery to address your shoulder pain?
Learn more
What have other patients experienced?
Although we may share similar anatomy, everyone is different. Your path to reducing pain will be different, too. One thing you may have in common with other people is that shoulder pain gets in the way of enjoying the things you love to do. Take a look at these stories of people who had shoulder replacement to help them get back on the move and feel better.
Where can I learn more?
Your doctor will help you understand potential benefits and risks, how to plan for your particular surgery and the weeks of recovery following. But you probably have questions that can be answered right now.
Learn more