What is
reverse shoulder arthroplasty?
Reverse Shoulder Arthroplasty
Reverse shoulder arthroplasty, another term for reverse shoulder replacement, addresses shoulder joint problems that a standard total shoulder replacement can't. It's called reverse because instead of re-creating the ball-and-socket joint in which the top of the arm bone (humerus) serves as the ball that fits into the socket of the shoulder (glenoid), the socket is created at the top of the humerus and the ball is anchored into what had been the shoulder socket. In situations where a total shoulder replacement cannot sufficiently address your shoulder injury, your doctor may recommend a reverse shoulder arthroplasty to help reduce pain and restore some of the motion you've lost.1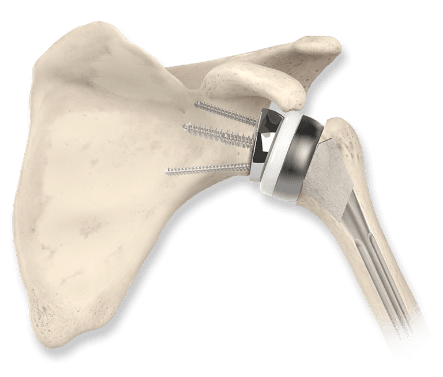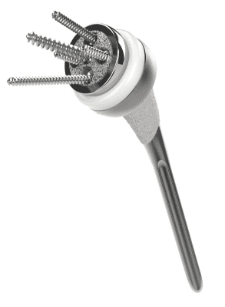 Stryker designed the ReUnion RSA (reverse shoulder arthroplasty) as an alternative for cases where rotator cuff muscles may be weak or have torn, and total shoulder arthroplasty may not be a sufficient solution.
For more than 30 years, doctors have studied the benefits of reverse shoulder arthroplasty. How does it work? Similar to the procedure for total shoulder replacement, the surgeon makes an incision to expose the top (head) of the humerus and uses a cutting guide to determine the appropriate amount of diseased bone to remove. Once prepared, the humerus is ready to be fitted for a stem inserted into the bone. The surgeon will then prepare the shoulder socket, securing a round plate to the bone with multiple screws.2 The surgeon fits a spherical shaped component onto the plate. A new socket placed on the arm bone completes the surgery.
After rehabilitation, you may be able to lift your arm to just above shoulder height and bend your elbow to reach the top of your head or into a cupboard. Reverse shoulder replacement has the potential to offer pain relief and patient satisfaction.1
References:
The Center for Disease Control and Prevention. Arthritis. https://www.cdc.gov/chronicdisease/resources/publications/factsheets/arthritis.htm
American Academy of Orthopaedic Surgeons. Treatment: Shoulder joint replacement. OrthoInfo. orthoinfo.org/en/treatment/shoulder-joint-replacement.