Why do I have
TMJ dysfunction?
To get a better idea of why your TMJ (Temporomandibular Joint) may hurt, let's take a look at how it works. Your jaw, in conjunction with muscles located around the joint are used for speaking and chewing. 3, 4 Two bones come together to form this ball-in-socket joint, your lower jawbone and skull base. 3
Inside the joint, there are three components that act together for common functions. A fibrous disk acts as a cushion and articulating surface, between the condylar head and Glenoid Fossa to promote full range of motion.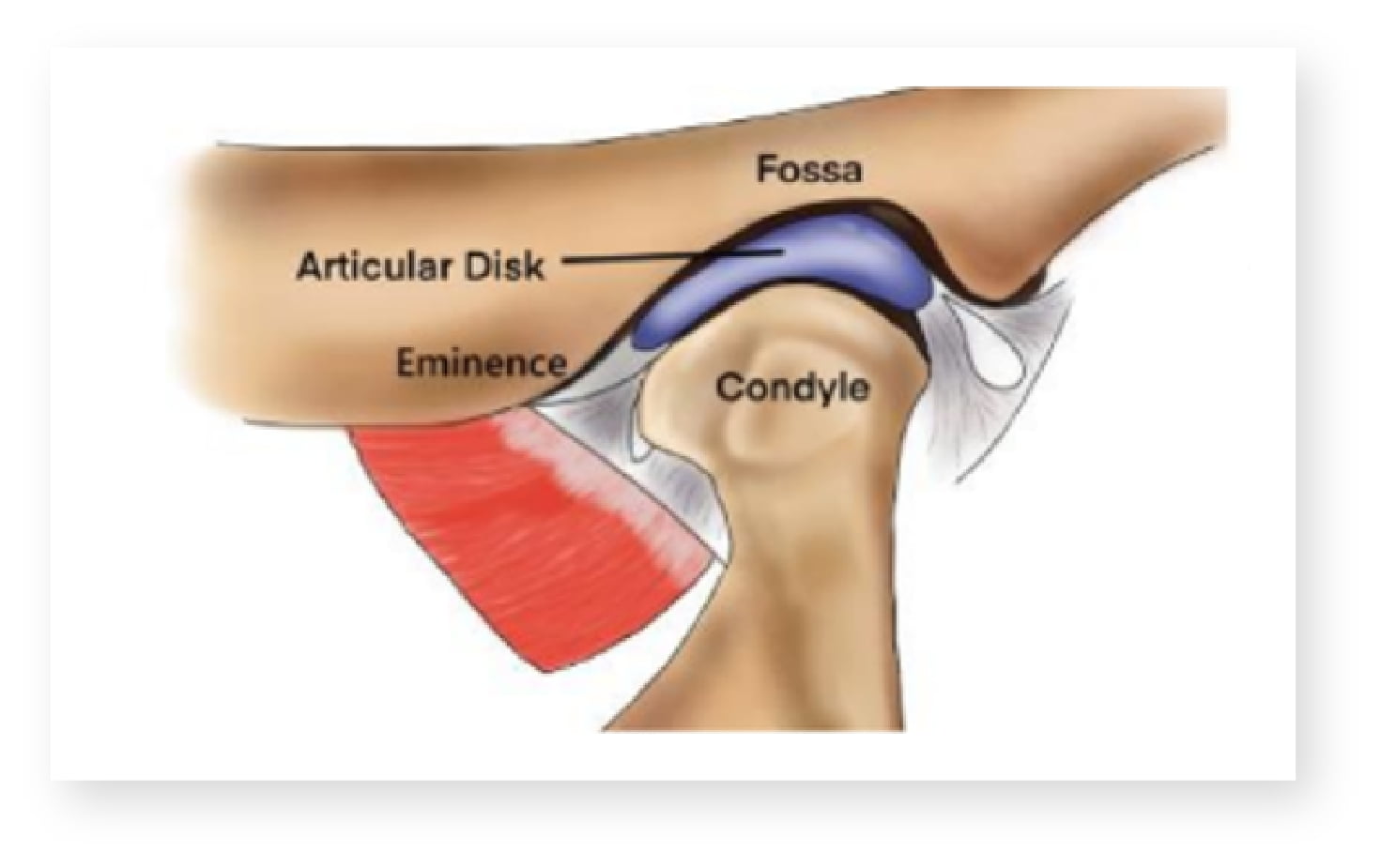 ---
Understanding

TMJ pain

Your TMJ issues may be due to a multitude of reasons, but here are some of the most common forms of Temporomandibular joint pain.*

With Arthritis Diseases, there are multiple forms of arthritis that can affect your joint including Osteoarthritis, and Rheumatoid arthritis. 3

Ankylosis is the immobility of the jaw joint due to the fusion of the joint to the base of the skull. There are two types of Ankylosis a person can have, fibrous which deals with the connective tissue or Bony fusion which is direct bone-on-bone contact 3,4

Tumors, both benign and malignant can be the reason for your jaw pain. Examples include Sarcomas, Ameloblastoma, Chondroblastoma and Osteoblastoma.5

*This is not an extensive list of jaw dysfunction. Trauma, Idiopathic Condylar resorption, and congenital disorders may be a reason for your jaw pain. Please consult your doctor for more information. 4
---
Talk to your
doctor
At your appointments, your doctor will likely ask you about your past history with TMJ pain, any diagnosis or treatment you have previously done. Your doctor may also ask when and where your TMJ pain hurts to assess what's going on. They'll ask you to open and close your mouth to replicate the movements that may be causing your pain. Additionally, your doctor may ask to take some scans such as an X-Ray, MRI or CT Scan to pinpoint the location of your pain.
Pain relief doesn't always mean surgery. Your doctor may recommend a combination of treatments to alleviate your pain and get you feeling back to normal. Learn more about your options here.
References:
TMJ Patient Brochure
ASTMJS Website- TMD General information. https://astmjs.org/tmd-general-information/ Accessed 08/06/2023 
Sporniak-Tutak K, Janiszewska-Oslzowska J, Kowalczyk R, et al. Management of temporomandibular ankylosis-compromise of individualization- a literature review. National Library of Medicine. 2011; 17(5): RA111–RA116. Accessed 08/072023
Poveda-Roda R, Bagan JV, Sanchis JM, Margaix M, et al. Pseudotumors and tumors of the temporomandibular joint. A review. National Library of Medicine. 2013 May; 18(3): e392–e402. Accessed 08/07/2023