How does the
back work?
To get a better idea of why your back hurts, take a look at how it works. The spine is made up of 33 bones, called vertebrae or vertebral bodies. The vertebrae are positioned one on top of another from the base of the skull to the pelvis.
A shock absorbing structure called an intervertebral disc sits between each vertebra, and each spinal segment (defined as two vertebrae separated by one intervertebral disc) is connected by two small articulating surfaces called facet joints.
Together, the vertebrae and intervertebral discs form the spinal column. The spinal column supports the weight of the head and upper body, serves as an attachment point for muscles and ligaments that allow you to perform every day activities, and most importantly, protects the spinal cord.
Seventeen vertebrae make up the mid to lower back (or thoracolumbar) region of the spine. When the bones or discs in the back become diseased or injured, it can affect one's ability to move and work.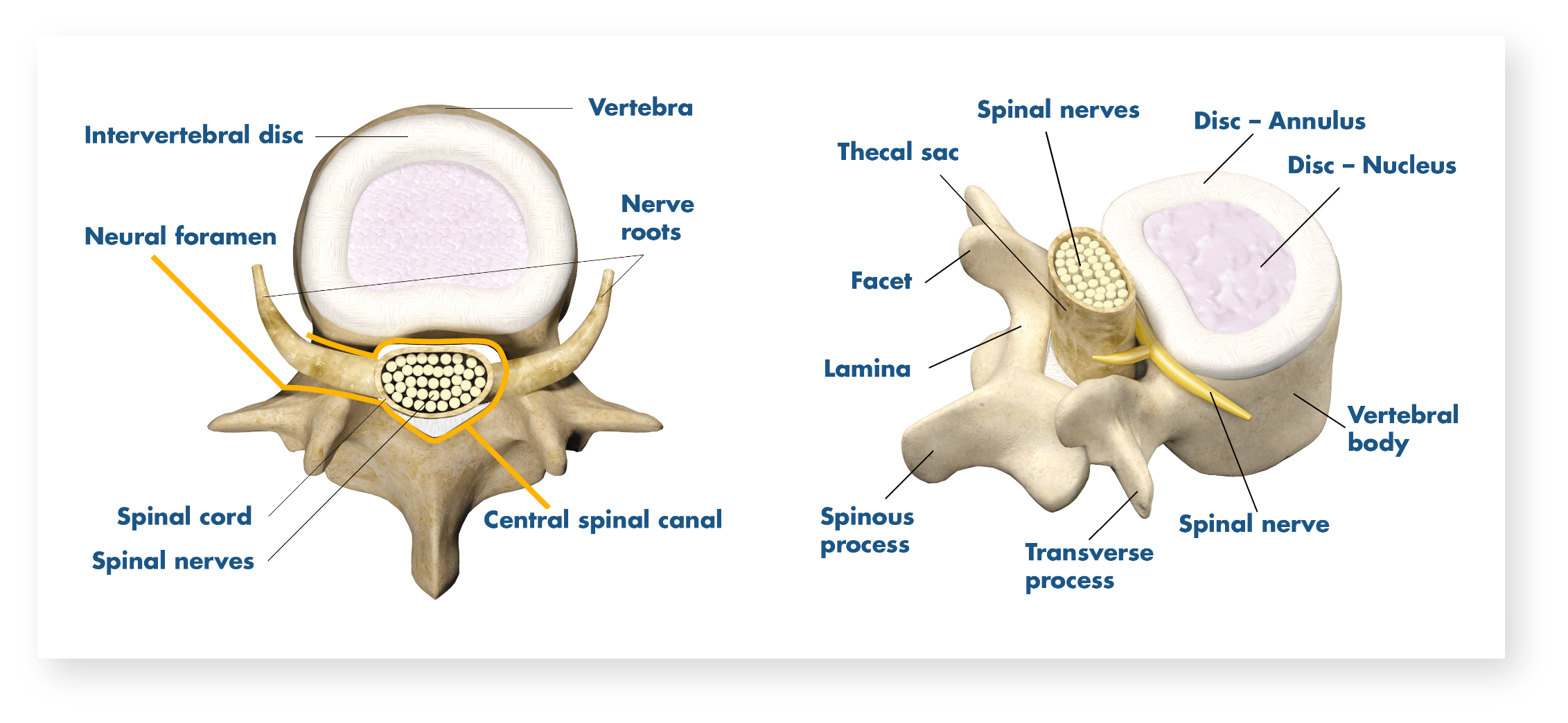 ---
It's time to take your back pain

off the back burner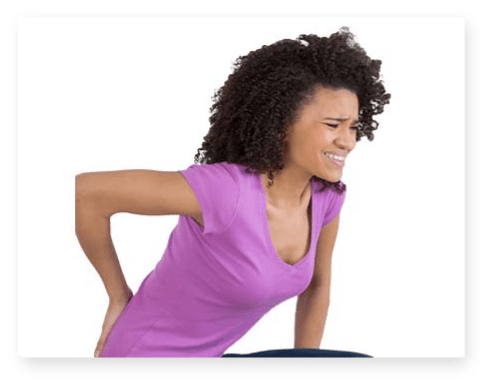 What does your pain feel like? If it occurs suddenly and feels severe, but only lasts for a short period of time, it may be what doctors refer to as acute pain. In contrast, if your pain is persistent and hasn't improved over time, it may be chronic pain.
Doctors will try to understand what type of pain you're experiencing. You may be experiencing mechanical pain because of a breakdown or inflammation in the mechanical components of the spine that create movement – the discs, facet joints, ligaments or muscles. Or, you may be experiencing neurological pain because the spinal canal has been narrowed or compromised, causing irritation of the spinal cord or spinal nerves, which in turn can cause pain in the back, or numbness or weakness in the legs.
If any of the following symptoms persist, it's important that you consult with your doctor:
Back pain
Pain, numbness, or tingling in the buttocks or legs
Weakness in the arms or legs
---
Find out why your back hurts.
What will a
doctor

do?

The first time your doctor meets you, he/she will try to assess what's going on. You'll answer a few questions about your symptoms. He/she will ask you to replicate the movements that may be causing you pain or discomfort. The doctor may understand what's going on right away because you show classic symptoms of a particular problem. Or, the doctor may ask you to have an additional diagnostic test, like an X-ray or an MRI.

It's important to keep in mind that symptom relief doesn't always mean surgery. Your doctor may recommend a combination of treatments to help alleviate your symptoms. Learn more about your options here.