What is
plantar fasciitis?
When the first step out of bed causes pain across the bottom or heel of the foot, it could be a sign of plantar fasciitis. The fibrous band of tissue that connects the heel to the base of the toes can become inflamed and tight. Plantar fasciitis often starts as a mild discomfort at the heel, but it can progress to become a chronic and painful condition.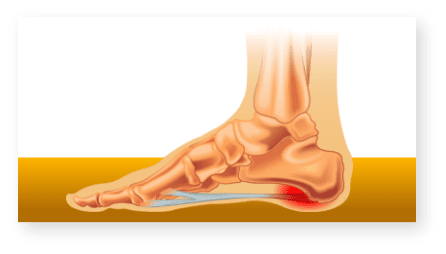 ---
How is plantar
fasciitis fixed?
Of course, the best treatment is the one that works for you. First, doctors will often recommend treatment that will reduce your pain and stretch the sole of your foot. But sometimes that's just not enough. Your doctor can help guide you through your treatment choices.
---
Treatment
without

surgery

Non-surgical treatments may offer help: taking anti-inflammatory medicines, applying ice, wearing arch supports, and stretching the affected foot properly. If you've already tried at-home care with no relief, it may be time to talk to your doctor about other options.
---
Surgical plantar fasciitis
correction
If other options don't help and you have severe, debilitating pain, your doctor may recommend surgery to remove the plantar fascia (the fibrous band of tissue) from your heel bone.
---