What makes our knee implant so different?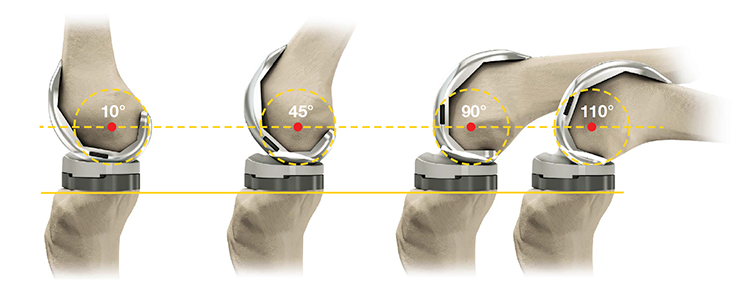 Our knee replacement implants are different from traditional knee implants. Others follow an oval motion,1-3 while ours is designed to replace the knee's naturally circular motion and to offer enhanced stability as you bend and flex your knee.1-3
The single radius design of our knee is one key feature that allows for enhanced stability. Single radius means that as your knee flexes, the center of rotation stays the same, similar to a circle. Our knee implant has been used in more than 4.9 million knee replacement surgeries worldwide.4
---
---
References:
Designed to maintain collateral ligament stability throughout the range of motion. Stryker-Initiated Dynamic Computer Simulations of Passive ROM and Oxford Rig Test, Stephen Piazza, 2003.
Wang H, Simpson KJ, Ferrara MS, Chamnongkich S, Kinsey T, Mahoney OM. Biomechanical differences exhibited during sit-to-stand between total knee arthroplasty designs of varying radii. J Arthroplasty. 2006;21(8):1193-1199.
Gómez-Barrena E, Fernandez-García C, Fernandez-Bravo A, Cutillas-Ruiz R, Bermejo-Fernandez G. Functional performance with a single-radius femoral design total knee arthroplasty. Clin Ortho Relates Res. 2010;468(5):1214-1220.
Triathlon sales report: Worldwide sales. Stryker Orthopaedics. 2023.