Why does my
shoulder hurt?
To help you get a better idea of why your shoulder hurts, take a look at how it works. Your shoulder has the greatest range of motion of all your joints. A ball-and-socket joint, it gets tremendous support from several muscles and other soft tissues that keep the joint in the proper position and moving freely. Frequently referred to as the rotator cuff, this collection of muscles and tendons provides the shoulder joint with stability and support.1 When it's working well, you don't think about your upper arm bone (humerus), your shoulder blade (scapula), your collar bone (clavicle), or all the soft tissue helping them work well. But, when something's wrong, the pain can be debilitating.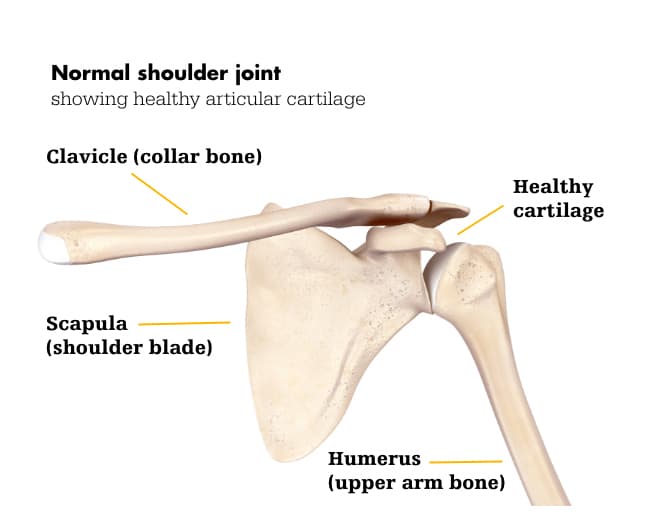 With three main bones, four main muscles, and lots of supportive soft tissues, the complex shoulder moves like no other joint in the body.
---
Your
shoulders

really get involved.

Because your shoulder joint contributes to so many of your body's movements, it gets put to the test every day. Your pain may be due to overuse, an injury, or chronic swelling or inflammation – most often referred to as arthritis.
osteoarthritis (OA), the most common form of arthritis associated with shoulder pain, can be caused by wear-and-tear over time or can develop years after an injury, like a dislocation.1
Cuff-tear arthropathy, often the result of a significant injury to the rotator cuff muscle or muscles, can lead to changes in the bone and surrounding tissue, limiting your movement and making your arm feel weaker.2
Avascular Necrosis (AVN) occurs when normal blood supply doesn't reach the ends of the bone to keep them healthy. As bony matter dies, the ends of the bones weaken, sometimes collapse, damaging some of the surrounding cartilage and soft tissue with it. AVN can affect the shoulder joint, most commonly at the top end of the long upper arm bone, the humerus.3
Your doctor will examine your shoulder and may ask you to take a few tests to determine the source of your pain.
Find out why your shoulder hurts.
Find a doctor in your area who specializes in shoulders.
Every doctor is different, but many follow a similar approach to helping you understand your shoulder pain. At your first appointment, your orthopaedic doctor will ask you a few questions about when and where your shoulder hurts to assess what's going on. The doctor may understand what's going on right away because you show classic symptoms of a particular problem. The doctor may also ask you to have an additional diagnostic test, like an X-ray or an MRI.

Pain relief doesn't always mean surgery. Your doctor may recommend a combination of treatments to alleviate your pain and help you get moving again – perhaps a course of physical therapy, rest, ice, or over-the-counter anti-inflammatory medication. If you have pain in your chest that radiates down your arm, or if you have severe pain, swelling, or discoloration, seek emergency medical treatment.
One

out of every

four

Americans has some form of arthritis.4
References:
The Arthritis Foundation. What is Osteoarthritis. https://www.arthritis.org/about-arthritis/types/osteoarthritis/.
Rotator cuff tear arthropathy: evaluation, diagnosis, and treatment: AAOS exhibit selection. Bone Joint Surg Am. 2012 Mar 21;94(6):e34. dos: 10.2106/JBJS.K.00746. Nam D, Maak TG, Raphael BS, Kepler CK, Cross MB, Warren RF. https://www.ncbi.nlm.nih.gov/pubmed/22438007.
The Mayo Clinic. Dislocated Shoulder. https://www.mayoclinic.org/diseases-conditions/avascular-necrosis/symptoms-causes/syc-20369859.
The Center for Disease Control and Prevention. Arthritis. https://www.cdc.gov/chronicdisease/resources/publications/factsheets/arthritis.htm