What makes a

mobile bearing hip

so different?

To help alleviate your hip pain and get you moving again, we've developed the Mobile Bearing Hip System designed to help prevent dislocation.
---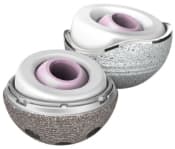 Our Mobile Bearing Hip System features X3 Precisely Engineered Polyethylene that may enhance joint stability,1 provide a more natural range of motion,1 and minimize the risk of wear that may help prolong the life of the implant.2,3
References:
Heffernan C, Bhimji S, Macintyre J, et al. (2011). Development and Validation of a Novel Modular Dual Mobility Hip Bearing. ORS Annual Meeting Poster #1165.
Stryker Orthopaedics Restoration® ADM X3® 28 mm ID acetabular inserts made of X3® Gas Plasma Sterilized UHMWPE, show a 97% reduction in volumetric wear rate versus 28 mm ID Restoration® ADM Duration Gamma Radiation Sterilized UHMWPE. Both ADM constructs utilized a 54mm OD shell and the inserts were approximately 9.9 mm thick. Testing was conducted under multi-axial hip joint simulation for 5 million cycles using a 28mm CoCr modular femoral head articulating counterface and calf serum lubricant. Volumetric wear rates were 109.7±6.0 mm3/106 cycles and -1.03 ± 3.8 mm3/106 cycles for Duration and X3® polyethylene insert test samples. Although in-vitro hip wear simulation methods have not been shown to quantitatively predict clinical wear performance, the current model has been able to reproduce correct wear resistance rankings for some materials with documented clinical results.A-C (A. Wang A, et al. Tribology International, Vol. 31, No. 1-3:17-33, 1998; B. Essner A, et al. 44th Annual Meeting, ORS, New Orleans, Mar. 16-19, 1998:774; C. Essner A, et al. 47th Annual Meeting, ORS, San Francisco, Feb. 25-28, 2001:1007.)
Herrera L, Lee R, Longaray J, et al. (2010). Edge Loading Wear Due to Inclination Angle for Three Contemporary Hip Bearings. 56th Annual ORS Meeting. Poster #2259.