Understanding
Impingement
Your hip pain may be due to impingement, often referred to as femoroacetabular impingement (FAI). FAI is a condition where there is an overgrowth of bone along the ball or socket of your hip joint. This extra bone may rub against your hip socket as you move your leg, causing you pain. There are two types of impingement, cam and pincer. 1-3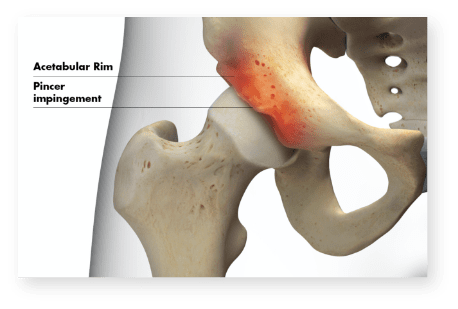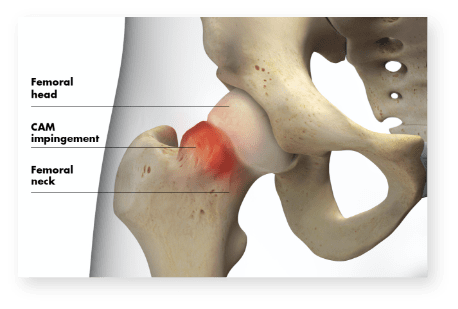 FAI that occurs due to the overgrowth of bone on the thigh bone (femur) is known as cam impingement, whereas excess bone on the pelvic side, which grows and extends out over the normal socket of the hip (acetabulum), is known as pincer impingement. While cam impingement is the most prominent, many patients have a combination of both types. 2,4
Understanding
labral tears
The labrum is the soft tissue that lines the socket of the hip joint and creates a suction seal to keep your hip joint stable. A labral or soft tissue tear may occur after a major injury such as a hip dislocation or simply from overuse. Most patients with impingement are at risk for tearing their labrum as well. This tear may also be related to the pain you are experiencing.2
---
Talk to your
doctor.
Every doctor is different, but many follow a similar approach to diagnose your hip pain. At your first appointment, your orthopaedic doctor will ask you a few questions about when and where your hip hurts to assess what's going on. The doctor may ask you to bend and turn to imitate the movements that may be causing you pain. They may understand what's going on right away because you show classic symptoms of a particular problem, or they may also ask you to have an additional diagnostic test, like an X-ray or an MRI.
Pain relief doesn't always mean surgery. Your doctor may recommend a combination of treatments to alleviate your pain and help you get moving again. Learn more about your options below.
---
Treatment
options
You've got options. The best treatment is the one that works for you. Doctors typically start by recommending treatment to reduce the swelling, quiet the pain, and get you moving without surgery. But sometimes that's just not enough. Your doctor can help guide you through your treatment choices.
---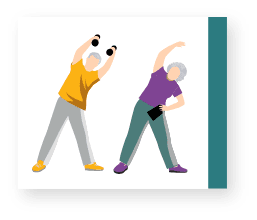 Treatment without surgery
Lifestyle changes, walking supports, physical therapy, and anti-inflammatory medicines may help reduce the swelling and pain in your hip joint.
Learn more
---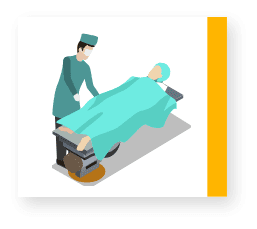 Hip arthroscopy surgery
Hip arthroscopy is a surgical procedure that has seen a rise in popularity and evolved over the last decade due to the expanded number of conditions it can treat, the development of specialized instrumentation and the increasing number of surgeons trained to perform it.5,6
The specialized instrumentation used in arthroscopic procedures allows your surgeon to perform surgery without making large incisions, like they would if they were to replace your entire joint. Instead, using a tiny camera (arthroscope), they can access your hip joint through a few small incisions to repair the parts of your joint with damage.
While hip arthroscopy surgery does have risks, one of the benefits to this approach is that this surgery is typically done on an outpatient basis, so you will likely return home the same day
Learn more
References:
FAI and Hip Labral Injuries – SportsMedToday.com – AMSSM. (n.d.) Retrieved June 25, 2020, from https://www.sportsmedtoday.com/fai-and-hip-labral-injuries-va-79.htm
AAOS: https://orthoinfo.aaos.org/en/treatment/hip-arthroscopy/
Samora JB, et al. Femoroacetabular impingement: a common cause of hip pain in young adults. Clin J Sport Med. 2011; 21(1):51-6.
Tannast M, Siebenrock KA, Anderson SE. Femoroacetabular impingement: radiographic diagnosis – what the radiologist should know. AJR 2007;188(6):1540-1552.
Griffiths EJ, Khanduja V. Hip arthroscopy: evolution, current practice and future developments. International Orthopaedics 36; 1115-1121, 2012.
Hip Arthroscopy - OrthoInfo - AAOS. (n.d.). Retrieved June 25, 2020, from https://orthoinfo.aaos.org/en/treatment/hip-arthroscopy
Important information about arthroscopy