Understanding bone tumors
Bone tumors can affect any bone in the body and develop in any part of the bone—from the surface to the center of the bone, called the bone marrow. A growing bone tumor—even a benign tumor—destroys healthy tissue and weakens bone, making it more vulnerable to fracture.1 Your doctor may recommend monitoring a benign tumor closely, including periodic X-rays or other tests, to see whether the tumor changes.1
For malignant bone tumors, a team of doctors from multiple specialties will work with you to determine your treatment plan. Treatment depends on several factors. Malignant bone tumors are typically treated with a combination of chemotherapy, radiation and surgery.1 In general, more than 80% of patients with extremity osteosarcoma, a type of malignant bone tumor, can be treated by a limb-sparing procedure and do not require amputation.2
When surgery to salvage the limb is part of a treatment plan, bone may be replaced with an implant. If the tumor is in the femur (thigh) or tibia (shinbone), a doctor may consider an implant like Stryker's Global Modular Replacement System® (GMRS) to replace the diseased bone.
Learn more about BONE TUMORS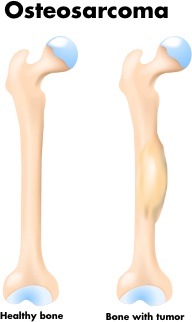 ---
Types of sarcoma

(malignant bone cancer)

A malignant bone tumor may be a primary bone cancer, which begins in bone, or a secondary bone cancer, which begins somewhere else in the body and then spreads to bone.1 According to the Academy of Orthopaedic Surgeons, the four most common types of primary bone cancer are multiple myeloma, osteosarcoma, Ewing sarcoma and chondrosarcoma.
Multiple myeloma1
Multiple myeloma is the most common primary bone cancer. It is a malignant tumor of bone marrow—the soft tissue in the center of many bones that produces blood cells. Any bone can be affected by this cancer. Multiple myeloma affects approximately seven people per 100,000 each year. According to the National Cancer Institute, more than 130,000 people are living with the disease each year. Most cases are seen in patients between the ages of 50 and 70.
Osteosarcoma1
Osteosarcoma is the second most common primary bone cancer. It occurs in two to five people per million each year, with most cases in teenagers and children. Most tumors develop around the knee in either the femur (thighbone) or tibia (shinbone). Other common locations include the hip and shoulder.
Ewing sarcoma1
Ewing sarcoma usually occurs in patients between the ages of 5 and 20. The most common locations affected are the upper and lower leg, pelvis, upper arm and ribs.
Chondrosarcoma1
Chondrosarcoma is a malignant tumor composed of cartilage-producing cells. It is most often seen in patients between the ages of 40 and 70. Most cases occur around the hip, pelvis or shoulder area.
References:
Rajani R, Quinn RH. Bone tumor. OrthoInfo. Accessed June 5, 2020. https://orthoinfo.aaos.org/en/diseases--conditions/bone-tumor/
PDQ Pediatric Treatment Editorial Board. PDQ Osteosarcoma and Malignant Fibrous Histiocytoma of Bone Treatment. Bethesda, MD: National Cancer Institute. Updated March 25, 2020. Available here, 2017. [PMID: 26389179]