Hip pain
treatment options
You've got options. The best treatment is the one that works for you. Doctors typically start by recommending treatment to reduce the swelling, quiet the pain, and get you moving without surgery. But sometimes that's just not enough. Your doctor can help guide you through your treatment choices.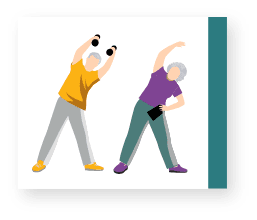 Treatment without surgery
Lifestyle changes, walking supports, physical therapy, and anti-inflammatory medicines may help reduce the swelling and pain in your hip joint.
Learn more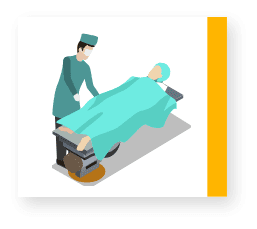 Hip replacement surgery
Hip replacement has come a long way in the past decades. Newer techniques, such as Mako, may preserve more of your natural bone.1 And different approaches may minimize the impact surgery has on soft tissue and muscles.2 In other words, today's jointreplacement techniques may mean less pain and a quicker return to your daily activities.3,4 But joint replacement surgery does have risks.
Learn more
References:
Suarez-Ahedo C, Gui C, Martin T, Chandrasekaran S, Domb B. Robotic-arm assisted total hip arthroplasty results in smaller acetabular cup size in relation to the femoral head size: A matched-pair controlled study. Hip Int. 2017;27(2):147-152.
Roger DJ, Hill D. Minimally invasive total hip arthroplasty using a transpiriformis approach: A preliminary report. Clin Orthop Relat Res. 2012;470(1).
Post ZD, Orozco F, Diaz-Ledezma C, Hozack WJ, Ong A. Direct anterior approach for total hip arthroplasty: Indications, techniques, and results. JAAOS. 2014;11(9):595-603.
Moskal J. Anterior approach in THA improves outcomes: Affirms. Orthopedics. 2011;34(9):e456-e458.