Ron
Ivy
Hip replacement recipient
---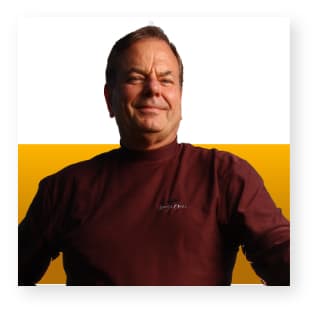 "Now, I walk, get up from my chair, get up and down off the floor, dance, play golf and much more. It's been a remarkable story."
At 53, Ron Ivy was "too young" to give in to the gnawing pain and discomfort that was affecting every aspect of his life. It began during his morning commute, when it hurt to get in and out of his car. It continued throughout his day, working at his desk as a petroleum engineer in Houston, Texas.
"It hurt to get out of my desk chair," says Ron, "I'm normally up and down a lot, and it got to where I would hardly get up from my chair. It hurt too much to get up and walk around."
"I was very active," says Ron, who for the past 35 years had been going to the gym every morning to lift weights and do elliptical work. The former competitive tennis player also played either tennis or racquetball in the mornings and golf in the afternoons. He walked through fields to bird hunt, and went wade fishing in the bays.
"I had to stop doing all those things," says Ron. "It wasn't comfortable. I gained weight. Everything was going in the wrong direction. I had to get it fixed."
After being diagnosed with arthritis in both hips, Ron spent several years researching options and talking with his doctor about the benefits and risks, before finding a surgeon.
Ron went into the first surgery with a walking cane. When he woke up, he felt better than he had been feeling in months. "I had felt so bad, you cannot believe it," says Ron.
Under his doctor's supervision, soon after surgery, he got up to walk to the bathroom on his own. He worked his way up to a half mile. "It felt so good," said Ron. "I had not walked a half mile the whole prior year."
At home, he continued to do his exercises and physical therapy. Soon after returning home, he went back to work. After consulting with his doctor, he had his second hip replaced. The results were the same as his first hip replacement.
Now, Ron is back on the golf course, working out in the gym every morning, boating, vacationing and generally getting his life "back on track."
"People used to ask me what was wrong: You have problems walking. Is it your hip?" recounts Ron. "Now, I walk, get up from my chair, get up and down off the floor, dance, play golf and much more. It's been a remarkable story."
---
All surgery carries risk. See your orthopaedic surgeon to discuss your potential benefits and risks. Not all patients will have the same post-operative recovery and activity level. Individual results vary.
---