Trish
Vogel
Hip replacement recipient
---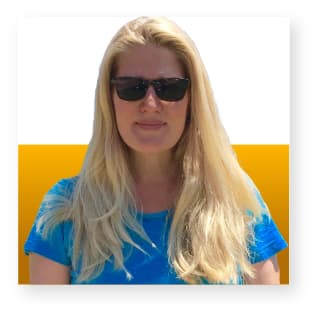 "My Direct Superior hip replacement surgery allowed me to get back to the things I love!"
A passion for writing and performing has taken Trish, a Midwest girl, from New York City to Los Angeles. Currently, Trish is a TV Producer in LA where she has long but rewarding days. One day on set Trish started to feel pain in her hip but she kept working through it. The pain became so severe that she decided to get an MRI done between filming shows. She didn't expect to be diagnosed with osteoarthritis (OA) of the hip.
Trish tried different treatment options in an attempt to relieve the hip pain. From changing the type of shoes she wore to physical therapy, the pain wouldn't go away. Finally, after discussing the benefits and risks of surgery, Trish's doctor recommended that she get a total hip replacement. "I kept putting it off. I thought that I was too young to have a hip replacement." Slowly she started to come to terms with her diagnosis. "I had been making too many deals with my body and it was time for me to treat my body with respect. I decided to get a hip replacement."
Now that the surgery is over, Trish is partnering closely with her doctor and physical therapist to continue to strengthen her hip and core muscles. She's walking, practicing yoga and using the elliptical at the gym. Trish admitted that the entire process was emotional for her. She appreciated how her surgeon supported her mentally and was open to answering questions. "After surgery, my friend gave me a Birthday card to celebrate my new hip. It really is a celebration…my Direct Superior hip replacement surgery allowed me to get back to the things I love".
---
All surgery carries risk. See your orthopaedic surgeon to discuss your potential benefits and risks. Not all patients will have the same post-operative recovery and activity level. Individual results vary.
---