Cindy
Goodfellow
Knee replacement recipient
---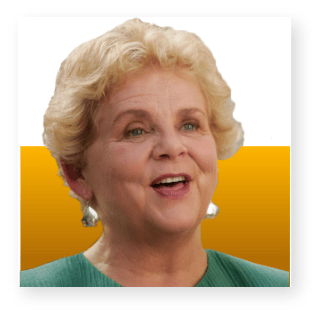 "I'm living a full-time life."
It was very difficult to do anything. I couldn't climb stairs, I couldn't stand, I couldn't even sit for a long period of time, and walking was certainly very, very difficult. The pain was so severe, I really could not continue my life as I had known it before. I felt like I was living a part time life. I have six grandchildren, and my husband and I do a lot of traveling, we have a motor home and we had to stop that.
My favorite thing is being a very big part of my grandchildren's lives, and to travel, to do gardening. I enjoy singing and I had to stop that because I couldn't stand for long periods of time. There really wasn't one moment I decided to have knee replacement, because my life just deteriorated so that I knew if I wanted to continue with any quality of life, I had to do something.
Soon after the operation, I noticed improvement, and the physical therapy, although it was a little difficult, made such a difference. I'm back to enjoying life again.
When I talk to people that have knee problems I say, talk to your doctor about knee replacement. I am so happy with my Stryker knee. My surgeon took me through every step of the surgery, benefits and risks, what happens before, what happens after, and I just am so grateful to him, I will always be grateful.
---
All surgery carries risk. See your orthopaedic surgeon to discuss your potential benefits and risks. Not all patients will have the same post-operative recovery and activity level. Individual results vary.
---